HISTORICAL ARTICLES


Here are a few articles revealing some interesting snippets of old Littleport. Of course you can find many more historical features in the Littleport Society publications that are available from our bookstall. Click on the Bookshop link under the Emporium tab above to see our booklist.
"Black Shuck – Hell Hound of the Fens"
For centuries fen-men have told tales of the large black hound they call Black Shuck, haunting the Fens on dark moonless nights.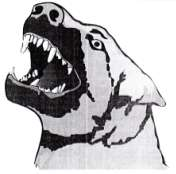 The sound of his panting would strike fear and terror, and it is said that to look into his blood red eyes would mean certain death within twelve months. It was in the period known as the Dark Ages that this malevolent hound originated. His name comes from the Anglo-Saxon word "scucca," a daemon, and throughout the Middle Ages people lived in horror of this hound from hell who sought out souls to claim for his daemonic master. Black Shuck claimed his victims on roads, bridges, pathways, and at crossroads. His favourite hunting ground in our locality was the banks of the river Great Ouse from Brandon Creek to Littleport Bridge. There was no protection from this hell-hound, except to bolt and lock the doors and pray he passed by in search for a late traveller or drunken fen-man stumbling home from a night at a riverside pub. The big black hound has not been seen in the Fens for many years, and it may appear that the late W. H. Barrett, who collected many tales and stories of the region, has the answer. He recalls the story in 1906 of a local man returning home to Littleport from Brandon Creek in his four wheeled horseless jalopy when a huge black hound ran out in front of him. Although he was only travelling at the speed a 1906 jalopy would go he could not avoid colliding with the hound which promptly vanished. Was Black Shuck run over and killed? Or will he one-day reappear to terrify some unsuspecting walker along the Great Ouse Way.

"Prince Charlie – Prince of the Thousand Yard Course (TYC)"
Henry Jones the farmer of Apes Hall built up one of the best small racehorse studs in the late Victorian period. Amongst his horses was the stallion Half Caste, a winner of the Liverpool Steeple Chase (later called The Grand National) in1859, which Mr, Jones acquired for breeding, as well as the mares Tomyris and Eastern Princess.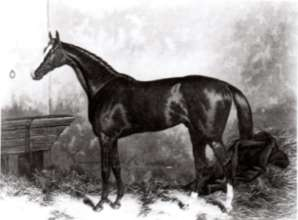 In 1869 Eastern Princess produced a colt by Blair Athol, he was given the name Prince Charlie. He was a chestnut with a white blaze and socks, and was to become the wonder sprinter of his day. He was trained by Joseph Dawson at his Newmarket stables, and was to acquire the title Prince of the TYC, and become incredibly popular with the racing public. In his short racing career of 4 years, the darling of the Rowley Mile, won 25 out of his 29 races, including the Middle Park Plate, and Criterion Stakes in 1871; the Two Thousand Guineas in 1872; and the Craven Stakes, the Cheverly Stakes, and the All-Aged Stakes in 1873. His greatest defeats were The Derby in 1872 when he finished seventh and the St. Ledger in 1872 when he finished second. After his last race in 1874 Prince Charlie made his departure from the heath by way of a triumphant procession. With Mr. Jones on his back, the crowd's old favourite received acclaim and an emotional farewell as he walked through the streets of Newmarket to return to his stable at Apeshall. Prince Charlie was eventually sold to the Elmendorf Stud, Kentucky, where he sired several American champions, including the famous Salvator. Prince Charlie died sometime before 1891 and was buried in an unmarked grave at the Elmendorf Farm.

"The Witch-finder Connection"
Matthew Hopkins, whose career as the self-styled Witch-finder General, flourished during the Civil War,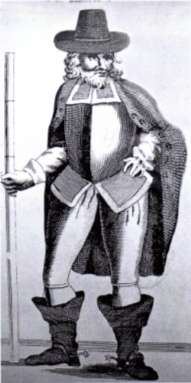 was responsible for more people being hanged for witchcraft than in the previous 100 years, has a Littleport connection. His grandfather, William Hopkins, was lessee of the Manor of Littleport during the reign of Queen Elizabeth I. He grew rich by enclosing common land and turning arable land into pasture for sheep, to maximise his profits from wool. William Hopkins married twice. His first wife died in about 1570, and sometime after he married Martha Saunders, by whom he had a son James, who was born in 1582, a year before his father's death in 1583. The widowed Martha having inherited much of her husband's lands and property in Littleport moved to Ely with her son James and her two daughters. At the age of 15 James won a scholarship to Peterhouse College, Cambridge. Martha lived in Ely until her death in 1600, and by her will James inherited the lands and property in Littleport. James Hopkins was ordained a priest at Ely Cathedral in 1609 and probably married soon after. On becoming vicar of Great Wenham, Suffolk, in 1612 James most likely disposed of his property in Littleport. His son Matthew, the future infamous Witch-finder, was born at Great Wenham in about 1620.